On the third floor of the LaPierre Ballroom Dance Studio, people came together to share a common interest, ballroom dancing.
The building, located at 111 High St., was filled with commotion as members of the ballroom club performed dances like tango and cha-cha. At the head of the class was Krystal Bradley, a 21-year-old junior dance student.
"When you practice dancing with someone, you both get really sweaty and disgusting," Bradley said. "So it kind of gets personal that way too. You really get to know this person for who they are.
Bradley is the president of the club and she is also a dance instructor for the studio. When she was 16, Bradley met club advisor Gene LaPierre and told her about it. When Bradley walked into Rowan, she attended a meeting and there were only about three people, she said.
When LaPierre asked her to help promote the club so more people would join, she agreed.
"We have so many more guys now," said Lola Vera, a 23-year-old political science student. "Which is great because before it was just women and like five guys and it's really hard when you're trying to pair up with someone."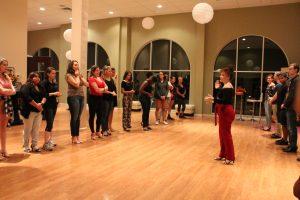 Vera started attending club meetings when she transferred to Rowan last year. She first heard about it during her ballroom dance class. His teacher for the class is also the club's advisor, LaPierre. She decided to join because it was a way for her to meet new people and get involved.
"It's really good that these people, random strangers, literally become like a second family to you because you spend so much time with them," Vera said.
Thanks to the club, she participated in various competitions and even received a scholarship for an intensive dance camp. She couldn't attend this summer, but it was still an honor to go that far, she said.
"A lot of people get really scared when they think of ballroom dancing because they see Dancing with the Stars," said Shannon Storms, sophomore biomedical engineering student and club vice president. "The way Krystal actually teaches is that nobody knows how to do anything in this room, that's pretty much her assumption."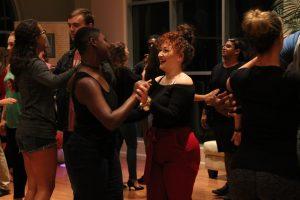 Storms says Bradley teaches the class like it's everyone's first class. The environment is supposed to make everyone feel comfortable and there is no need to have dance training, she said.
"If you can't dance, that's okay. We're going to teach you, that's why this is a course, "Storms said. "You don't go into a physics class hoping to know every aspect of physics fully. No, you go there to learn.
Like Vera, Storms heard about the club in her prom class. One day she had nothing to do, so she decided to show up for the meeting. She became addicted immediately after her first class, she said.
"There isn't one type of dancer here. There isn't just one body shape, "said Kianna Price, a 22-year-old senior African studies student and club secretary. "Your leaders vary in size. There are no criteria to be here. You can just come and learn. It is a real booster of confidence.
Price has been involved since her second year. She participated in all possible competitions. She said if she can afford it, she is in competition.
Although the club participates in competitions throughout the school year, students who are uncomfortable or unwilling to participate may choose not to. To help with travel costs for competitions, the club organizes various fundraisers, including the sale of Yankee Candles and popcorn. All proceeds from the candle fundraiser went directly to the student fund for the contest. Students got about half of the proceeds from the popcorn sale, Storms said.
"We usually do it around competitions," she said. "Because we realize, OK, we're all broke college kids."
The farthest the club has traveled to compete has been in Ohio for two competitions. One was called the Arnold Classic, hosted by Arnold Schwarzenegger. They were a couple away from winning the top university trophy. They had eight people competing and other universities had over 100 contestants, Bradley said.
The prom club meets every Monday and Wednesday at 8 p.m. and each class lasts approximately 45 minutes. Those interested can benefit from four free courses. After that, members pay a fee of $ 45. This covers their lessons for the entire semester.
For comments / questions on this story, email [email protected] or tweet @TheWhitOnline.
Related