The Tommies now have the opportunity to add a little class, culture and elegance to their lives with the creation of the Ballroom Dance Club.
Behind the curtain are the members of the German Club who came up with the idea last semester. They attended a Viennese ball at Eau Claire in April and needed to learn ballroom dancing in preparation. Their interest in the dance style skyrocketed after their classes and they had the club approved by the student government this semester.
Club member Phil DeLisle said he liked the way ballroom dancing allows people to learn a more traditional form of dance, unlike the fashionable dances of today.
"I just like learning something new and being able to do a real dance to music. In today's world, there isn't a lot of 'dancing' left, it's more what you can imagine would be dancing, "he said.
DeLisle was one of the club's founding members, along with Rachel Weiss, Morgan Kaardal and club president Mitch Sullivan.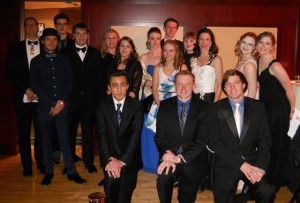 Sullivan said cultural ties prompted him to take an interest in ballroom dancing.
"The cultural connection with Austria and Germany, as a German major, is what first attracted me. I decided to stick with it because not only is it a good exercise, but it's also a great skill to have, "said Sullivan. "You will impress everyone when you can dance well at a formal event. "
Club classes are taught by staff at Cinema Ballroom, a local dance studio. The studio is owned by two St. Thomas alumni, Eric and Michelle Hudson.
The club's current advisor, Susanne Wagner, dances at the Cinema Ballroom, which led to the connection when the club was looking for instructors. Sullivan said the club hope to collaborate more with the studio in the future.
"We are working with them on setting up a college package where each team would get a subscription to their studio and could use their facilities and attend classes once a week," he said.
The club will learn various forms of classical and Latin ballroom dancing this year, including waltz, foxtrot, rumba and cha cha.
After the Viennese ball last spring, the participants were asking for more. Club members will be attending the ball again this spring, in addition to organizing their own event in conjunction with other dance clubs.
"We're planning to do a semester end ballroom dance where we'll try to invite other Minnesota college dance clubs," DeLisle said.
Each club meeting allows beginners and more experienced dancers to learn and develop. DeLisle said the first half hour focuses on classical ballroom dancing, while the second half hour is Latin dance. The last half hour becomes more advanced and teaches the dancers to dance in a more professional manner.
Sullivan encouraged the students to try ballroom dancing, even if it's just to see if they enjoy it.
"There is absolutely no experience required. It's about learning together, "Sullivan said. "None of us are pros so I encourage everyone to try something new and give it a go. "
The club meets on Sundays at 7 p.m. at ASC Dance.
Spencer Flaten can be contacted at [email protected]